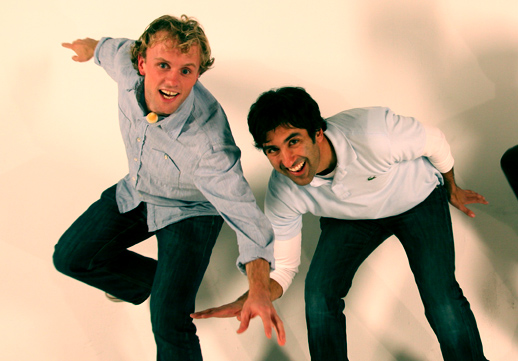 Combining elements of computer science, anthropology, visual art and storytelling, Jonathan Harris designs systems to explore and explain the human world. He has made projects about human emotion, human desire, modern mythology, science, news, anonymity, and language, built a time capsule, and recently documented an Alaskan Eskimo whale hunt. He studied computer science at Princeton University, and was awarded a Fabrica fellowship in 2004. His work has been exhibited at Le Centre Pompidou and New York's Museum of Modern Art. He lives in Brooklyn, New York, and in the name of research, occasionally uses online dating.

Sep Kamvar is a professor at the MIT Media Lab. His research focuses on large-scale adaptive networks such as the web, peer-to-peer and social networks. From 2003 to 2008, Sep was the engineering lead for personalization at Google, and a consulting professor at Stanford's ICME. Prior to Google, he was the founder and CEO of Kaltix, a personalized search company that was acquired by Google in 2003. Sep's artwork has been exhibited worldwide, including at the MoMA in New York, the Victoria and Albert Museum in London, and the National Museum for Contemporary Art in Athens. He has not tried online dating himself, but has served as an online dating coach to his collaborator on this project.

Documentary production:
Ari Kuschnir, Scott Thrift & Ben Nabors
Music:
Stars: "Personal"
Programming assistance:
Ray Graham
Chris Miller
Sheffield Nolan
Silhouette video production:
Justin Bolognino (Producer)
Andrew McFarlane (Lead video editor)
Jason Wishnow (Video director for 500+ vignettes)

Additional video shoot production help from:
Rutu Chaudhari (Assistant director)
Phi Hong Ha (Assistant producer)
Lisa Mosko (Fashion consultant)
Lyz Rundbaken (Wardrobe stylist)
Additional video editing help from:
Chris Clark, Syd Garon, Seran K°, Evan Mather, Ben Shababo
Silhouette video performers:
Alex Freund, Alex Howell, Amaj Green, Ani Mason, Ari Kuschnir, Baz Hatfield, Brittany Blockman, Carol Miiltimore, Carrol Chang, Cass Buggé, Charley Ryan, Cheri Lyn Keeler, Chi Kim, Christopher Branham, Christopher Ryan Clark, Cindy Lai, Cloe Shasha, Deborah B Greig, E A Hanks, Elizabeth Daley Bolognino, Erin Giunta, Eugenia Yu, Gabriel Mosko-Freund, Genevieve D. Markle, Hsing Wei, Jack Chester, James Lo, Jason Wishnow, Jennifer 8. Lee, Jennifer Anderson, Jeremy Langdon-Brown, Jese Jarnow, Jesse Ashlock, Jessica Phelps, Johan Kritzanyck, John Giunta, Jonathan Harris, Justin Bolognino, Karina Napier Anderson, Kiley Bates, Kyla Fullenwider, Laura Weidman, Linda V Wesley, Lindsay Ballant, Lisa Mosko, Lola Bates Campbell, Lyz Rundbaken, Mari Mori, Maryam Kamvar, Maura McThrill, Max Schorr, Michelle Perez, Moira Griffin, Nathan Whipple, Neil Baptista, Neil Molino, Patrick Brennan, Phi-Hong Ha, Quin Browne, Rebecca Jones, Reed Eldridge, Rives, Robert Krevolin, Rucker Alex, Rutu Chaudhari, Ryan Wilcoxon, Sandy Ramirez, Sarah V Motawek, Sep Kamvar, Shanti Nulu, Simone Leonhardt, Sophia Langdon-Brown, Sunny Bates, Thomas B Leary, Vanessa J Castro, Victor Dong, Victor Luicciandi, Victoria Ortiz, Vin Gupta, Viva Max, Weez Tomlinson
For opportunity and guidance:
Paola Antonelli & Patricia Juncosa
And also:
Chris Bastian
Big Corporation ( camera loan )
Amanda Harris ( Orchard Cove Photography )
Frank Kane
Zach Lieberman & Theo Watson ( OpenFrameworks )
John Manno
Angie Schiavoni
Zipcar ( transportation during video shoot )